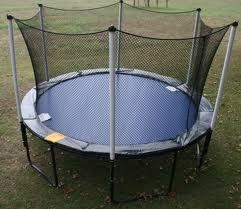 Trampolines

Trampoline Pro Shop is a leading supplier of trampolines and trampoline parts worldwide. Trampoline Pro Shop offers all trampoline parts and accessories for sale such as trampoline mats, safety pads, nets, trampoline springs, covers, ladders and many more trampoline accessories. All trampoline parts and accessoires are compatible with Texas, JumpKing, Hedstrom, NBF, Roadmaster, Flexible Flyer, Bollinger, Sky Bouncer, Bazoongi, Jump Pro, Magic Circle, Giant, Hercules, Sidlinger, skywalker, Nissen and all other trampoline brands.

Trampolines in All Shapes and Sizes:

Trampoline Pro Shop provides trampolines for sale in all shapes and sizes such as round trampoline, rectangle trampoline, square trampoline and octagonal trampoline.

Services:

Trampoline Pro Shop offers quality trampoline repair services such as

Complete Rebuild, Basic Resew, Hole Patching Service

.

Deals & Offers:

Trampoline Pro Shop offers Free Gift with every order and also offers Free Shipping in all over USA.